Masayoshi Fujita & Jan Jelinek:
Bird, Lake, Objects
Tracklist:
A1. Undercurrent (08:50)
A2. Workshop for modernity (05:06)
A3. I'll change your life (08:05)
B1. Waltz (alonely crowd) (07:03)
B2. Stripped to RM (05:59)
B3. IA_AI (04::08)
Masayoshi Fujita & Jan Jelinek:
Bird, Lake, Objects
Queried on his favourite word in the German language, Masayoshi Fujita will pick 'getragen' – without a sliver of hesitation. Further questioning will reveal that he loves the term's semantic signifiers, its inherent sense of "expansive, deep, quiet and sombre." And yet, 'getragen' leaves plenty of room for interpretation: depending on context, it might also indicate wearing apparel or the state of being carried – two more mundane interpretations that I would rather keep from him.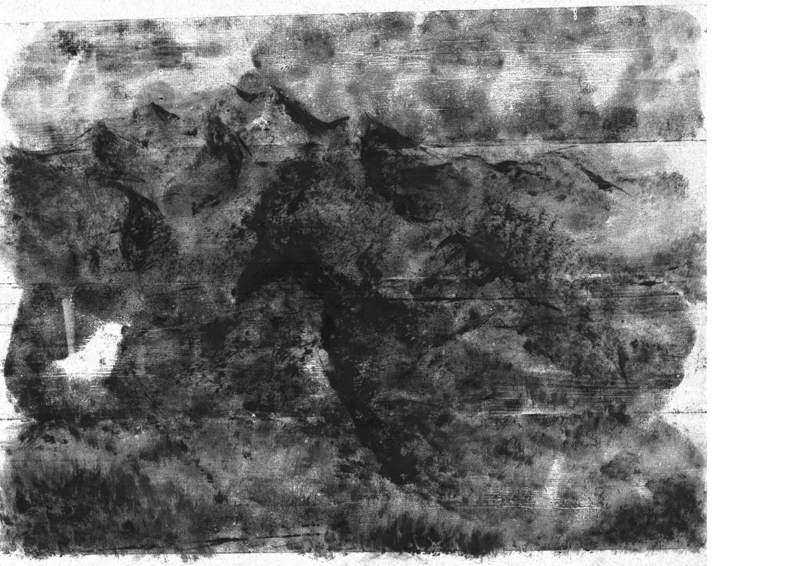 Mountain, Spring (Masayoshi Fujita, Oil on Paper, 2007)

Does Masayoshi's own definition, however, apply to Bird, Lake, Objects? Only to a limited extent. Compared to previous Faitiche releases, Bird, Lake, Objects is certainly the most 'getragen' of them all. Nevertheless, this is by far not the first association that comes to mind. From a distance, these tracks seem rather introspective, cautious even – and reflect the recording situation: deliberately pared down, reduced to a single microphone in space and a separate track for all other instruments, each movement and action is chronicled by the treacherous mike. This confronted me with some unexpected and unfamiliar problems. For example, we had to swap out the seating in the studio as my favoured chair had a characteristic creak. Other, external influences proved to be beyond our control: fire engine klaxons, street noise and footfall became part of the recordings and their improvisatory nature. Each movement required careful orchestration, fully aware of its irrevocable nature. Space itself was always present and an audible entity, except on "Stripped to RM" (recorded without a microphone or vibraphone track). After extensive deliberations, we decided to forgo the vibes on this piece – a very similar version had already been released in 2008 (on the compilation Enjoy The Silence, Mule Electronic, 2008).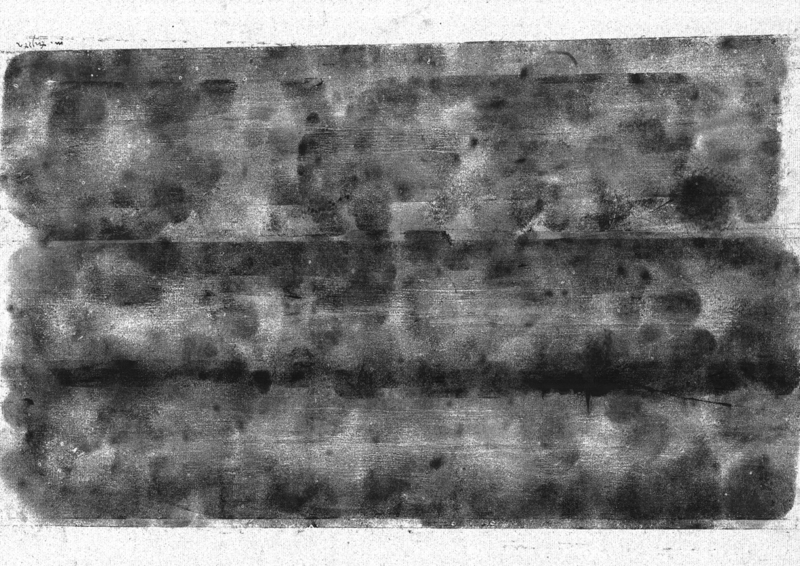 Fog, Lake (Masayoshi Fujita, Oil on Paper, 2007)
On Masayoshi Fujita:
Masayoshi Fujita's route to Berlin was a roundabout one. Introduced to music via Bon Jovi, his first stint abroad naturally took him to the motherland of rock, the United States. After a year in the USA, he returned to Japan to study film. His love for movie making, however, proved less pronounced than his admiration for Bon Jovi, a band he can still quote and sing from memory. He decided to learn how to play the drums, followed by extensive vibraphone training to craft and play his own, mostly jazz and electronic-influenced compositions. Determined not to stick to traditional vibraphone styles or techniques, Masayoshi started to prepare his instrument with pieces of metal, strips of foil and similar objects. The resulting new sounds, akin to distortions, help to expand the vibraphone spectrum without eroding the instrument's intrinsic character or even abandoning it altogether. Besides his extremely reduced and deliberate style of playing, it is this aural redefinition that makes Masayoshi Fujita's craft so remarkable and noteworthy in my eyes. Literally caught in his spell, it was a delight and privilege to accompany his play.
On a different note, Masayoshi's woodcuts should not go unmentioned. The cover and booklet of Bird, Lake, Objects present concise, abstract and monochrome landscapes and thus a visual complement to his music.
Jan Jelinek
LP with photos, text and images of Fujita's linocut prints on the sleeve (inside/out). Special CD packaging (Herzog-Idex Smartpac, inside/out) including a booklet (8 pages) with photos, text and images of Fujita's wood prints. Recorded between August and September 2009 at G. Guillaume Studio, Berlin. Mastered by Kassian Troyer, graphic design by Tim Tetzner. Copyright control.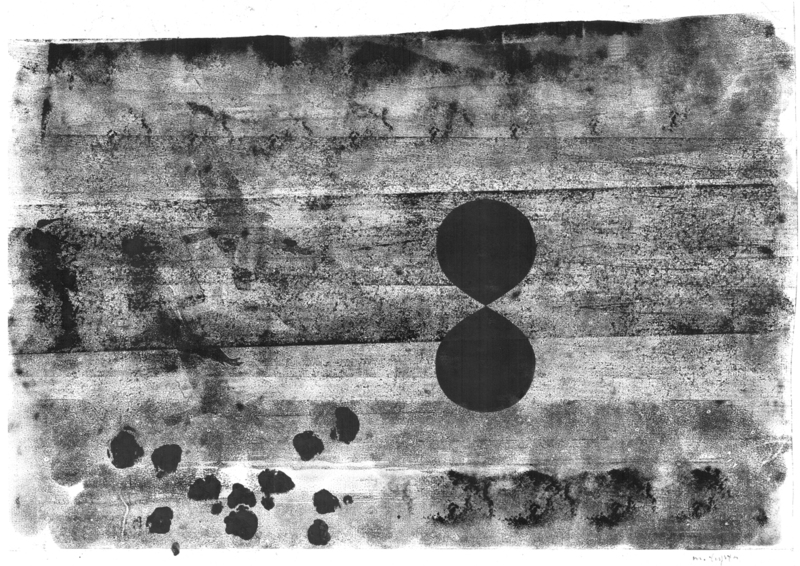 Bird, Fog, Objects (Masayoshi Fujita, Oil on Paper, 2007)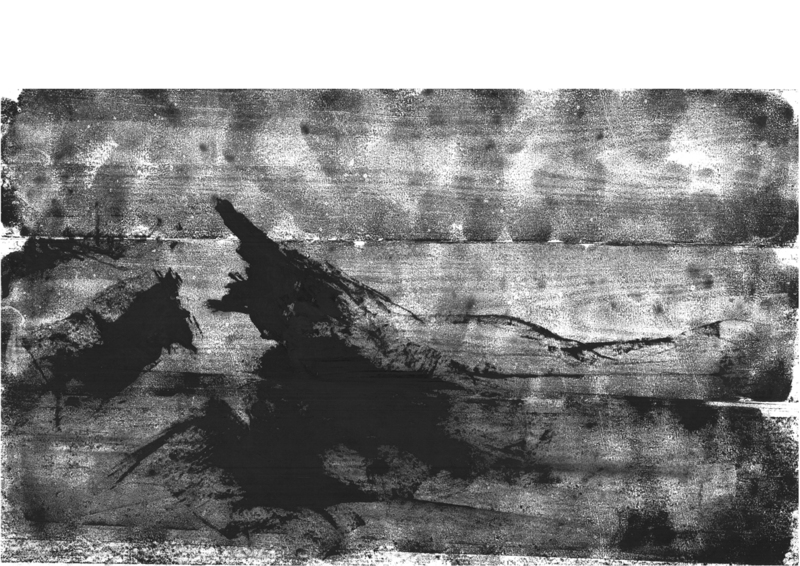 Mountain (Masayoshi Fujita, Oil on Paper, 2007)