Muellie Messiah & Punk Not Punk:
Exq I
Faitiche presents the album Exq I by Berlin underground techno legends Muellie Messiah & Punk not Punk, mainly known under their 100Records moniker. Weighing in at 36 minutes, the track was recorded in 2010, effortlessly intermingling dub, drone and collage, a blend achieved thanks to the duo's jazz-inspired approach to improvisation.
"100records is one of the last undiscovered treasures of the Berlin underground of the 1990s and 2000s. Like Elektro Music Department, 100records is unthinkable without techno and the club scene, but with a few exceptions the duo's tracks are not aimed at the dancefloor. With a claim to universality and a broader frame of reference, 100records developed a more extensive understanding of sound that rests on three pillars: the understated analogue drums of the Roland TR-808, a blurred, dubby sound, and improvisation.
On first hearing, Exq I has little in common with the groovy, detailed, variation-rich sound usually associated with100records. Recorded at the end of a highly productive decade, it is an echo speaking of exhaustion in which dub, drone and collage converge to form something whose jazz sensibility makes it readily identifiable as the work of 100records.
100records was founded in 1994 by Muellie Messiah (Dirk Budde) and Ekki 808 (Ekkehard Rau), who were joined in 1999 by Punk not Punk (Martin Osti). Around 2002, Ekki departed, leaving Budde and Osti to continue as a duo. Since then, their relationship has shaped 100records: Budde is the driven lone genius doggedly pursuing sounds, Osti the pragmatist who turns ideas into music.
As well as making music, Budde is also a musicologist. In 1997 he published his PhD thesis entitled Take Three Chords... Punk Rock and the Development to American Hardcore. As well as being his specialization, punk is also part of his identity: in the 1980s he sang and played keyboards in various punk bands in Kassel, the best known being Haunted Henschel.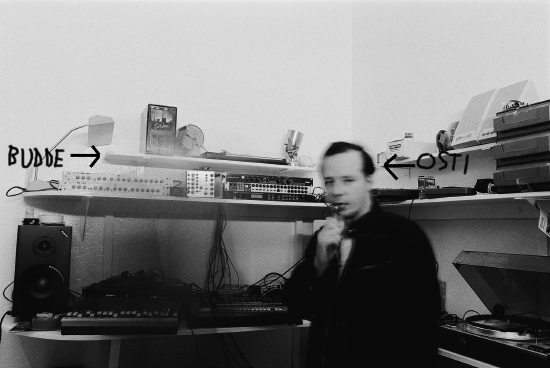 Muellie Messiah (Budde) & Punk Not Punk (Osti) at work, year unknown
After the fall of the Wall, attracted by the freedom of the newly reunited Berlin, Budde packed his bags and drove to the formerly divided city, having already become acquainted with techno at Kassel's influential Stammheim club.
After the move to Berlin, he no longer played in bands, but Budde and Ekki's joint live act with countless analogue devices, often lasting entire speed-fuelled nights, were legendary. Just wiring up all the gear took hours. True to the motto "my way is the highway," the speed was lined up on the table right next to the 808 – still the main instrument for 100records along with the Novation Bass Station.
Rotary, the first record by 100records, was released on the label of the same name in 1995. After a second record in 1999 (100records 003), they were joined by Martin Osti. Growing up on the Swiss border in the Black Forest in the 1980s, he discovered music in various record shops in Zurich that received imports from the US and UK very week. The shops he frequented included the avant-garde institution Rec Rec and the legendary Halb Tanz, halb Schlaf. He was also influenced by his older brother's record collection, where he discovered CAN, Kraftwerk's Computerwelt, and later Public Enemy's Fear of a Black Planet.
Aged 14, he joined the crew of the mobile disco Space Invaders that grew out of youth club. The crew had its own PA and built a lightshow using car windscreen wiper motors. In his DJ sets, Osti mixed new wave and synth-pop, Human League and Africa Bambaataa. On disco nights, it was a "victory for marginal groups" if it was possible to play Bela Lugosi's Dead by Bauhaus.
During this period, Osti also experimented with electronic music, using a small synthesizer belonging to his father, a hearing-aid audiologist. At the time, noise was important, not least as a way to set oneself apart from hippies. In the basement of an abandoned restaurant in the Black Forest, he and his friends tried to recreate the music of the Residents, Tuxedomoon and the Dead Kennedys–concerts by this nameless industrial experimental band were attended by maybe 30 people.
Osti, too, was drawn to Berlin "because crazy stuff was happening there". The radicality of bands like Einstürzende Neubauten both fascinated and intimidated him. In 1990, he moved to Berlin, initially living under "experimental" conditions, using cheap Roland equipment sourced from Italy by Parsec Productions.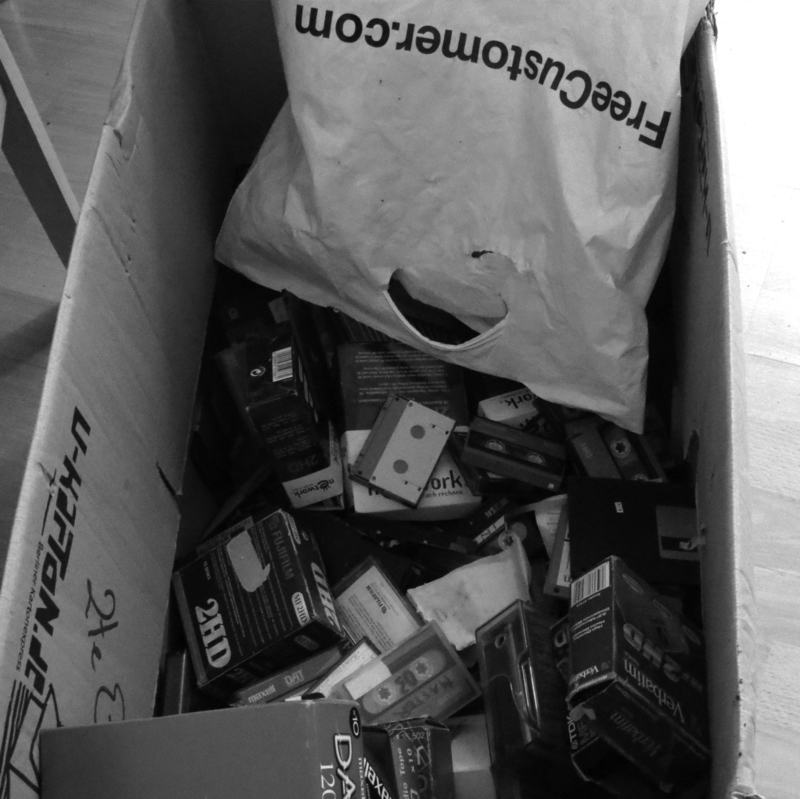 100Records (MIDI- & DAT-archive), year unknown

At first, Osti worked at the record store Bad Taste. At the same time, he was buying house records at Hard Wax and at Raw on Zossener Strasse. He took drumming lessons with future improv and noise icon Jason Kahn. At home, he conducted experiments in dub using various gear, with the Roland Space Echo as the central instrument. He played his way through the city's dingy bars with two bands: trash rockers Johnny Zabala & The Signs, and the ambitious Deister, who saw themselves as a cross between Helmet and John Cale.
In 1996 Osti opened On/Off, his own record store in Friedrichshain that also functioned as a label, located in a small former hairdressing salon on Boxhagener Strasse. The long thin room had records down both sides and at the end Osti sat behind the counter in front of a cathode ray tube. His speciality was radical, out-of-the-way music of all kinds. Local DJs also wanted to be fed with vinyl, but he sold no trance and resisted the records included unasked by distributors.
The shop brought him into contact with various musicians, including Taymur Streng, a former member of East German underground electronic band Ornament und Verbrechen. Another customer at On/Off was Dirk Budde. Their musical tastes overlapped in the fields of punk, techno and avant-garde, a spectrum covering Sun Ra, Lee Perry, Public Enemy, Drexciya and LFO. Over time, Osti gradually became part of 100records.
Atari Cubase sequencing became their speciality, with Budde and Osti sometimes working several days on a single sequence. The counterpart to these prepared sequences was live improvisation – on stage and in the studio. The recordings were edited by Budde, circulating as a weekly series of CD-Rs among friends and fellow musicians. In 2010 they stopped making music because, as Osti says, "we couldn't do it any more". From then on, the material was edited into final versions. In 2020, they completed their "legacy" in the form of 101 tracks. A number of these tracks have been released on SJ Tequilla's Shot of T label, on Dynamo Dreesen's Acido Records – and now on Jan Jelinek's faitiche.
The faitiche release Exq I was made in the late period, in 2010, referred to by Osti as the New Music phase, when their productions became sparser and simpler. "This track is special for us. It made itself in the production process while we fought a weeks-long sound battle. The analogue equipment got warmed up over a few days, it wanted to keep going. We were like: Wow!"
In the decade-long process of editing the track, the focus was on reduction and deceleration: heavy dub. "Once we took some strong ecstasy. That heightened the effect, giving us a direct experience of the hallucinatory impact of the extended modulations." Alexis Waltz, 2022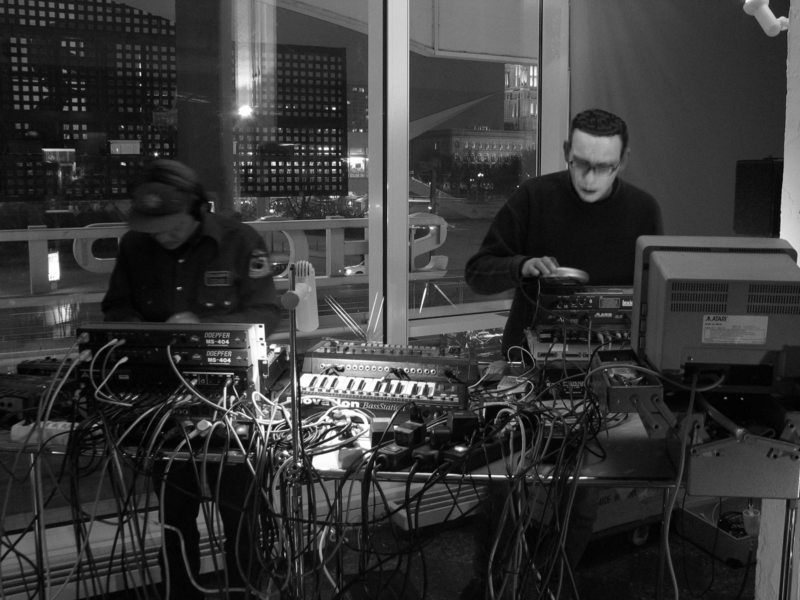 100Records, live at Haus des Reisens (?), Berlin, year unknown

100Records Berlin, Dirk Budde & Martin Osti.
Recorded live at 100Records studio, Berlin Kreuzberg 2010, cut 2014.
Design by Tim Tetzner
Cover & label photos by Christoph Voy
Copyright Control