Roméo Poirier:
Living Room
Tracklist:
A1. Statuario (03:57)
A2. Neos Kosmos (02:49)
A3. Bespoke (02:47)
A4. Porte contre (03:55)
A5. Anna (03:14)
A6. Muscle de sable (04:01) *single pre-release
B1. Rotation séance (04:43)
B2. Le case degli altri (02:41)
B3. Visiona (04:10)
B4. Impression couleurs (01:15)
B5. Les grandes lignes (03:44)
B6. Superstudio (02:41)
extra title (only digital / *single pre-release):
Muscle de sable - Jan Jelinek Remix (05:04)
Muscle de sable - Jan Jelinek Remix (remixed by Roméo Poirier) (02:43)
Roméo Poirier:
Living Room
*** Release: album Oct. 7th 2022 / single (only digital) Aug. 9th 2022 *** LP shipping out on or around October 7th, 2022
Living Room (faitiche 28) is the third solo album by Roméo Poirier and, following his much praised Hotel Nota, his debut for Faitiche. The French musician and producer transforms the layering of different times into a free-flowing pulse that sounds both nostalgic and mysteriously ahistorical.
Poirier takes music seriously as a time-based art – not just in the sense of duration, but also in the way time is refracted into autobiographical experience, historical dimensions and stages of evolution. By immersing and reflecting himself in these different layers, he creates a succession of new balances between various tempos, iterations and developments.
Poirier's music emerges from a continual questioning and reformulation of his own oeuvre and thus of his own past, drawing on an ever-expanding archive of self-recorded loops. "I always resample myself, using fragments of a track to make a new one, as an ongoing process," he explains: "The sound is evolving with me in parallel and the loops carry in their DNA all transformational stages, filled with previous tracks, sedimented."
Originally a drummer, Poirier connects his various sources almost without a clearly identifiable beat. He prefers an organic pulse, mutable like the human sense of time and its fluidity. The aquatic feel of certain tracks on Living Room is no coincidence: among other devices, he uses a waterproof loudspeaker and a hydrophone to play back and rerecord tracks in the bathtub.
Drawing on a sample collection assembled by his father, also a musician, the human voice enters Poirier's music for the first time. But it remains free of overly unambiguous signifiers. Besides its link to time, the fascinating thing about music is that it has meaning without needing to be decoded. Living Room goes back to the private but universal origin of human experience: "I liked the idea that a possible quest for a musician could be echoing the first encounter we had with language, in a prenatal state: its prosody, melody and tones, without being cluttered with meaning."

backcover (excerpt), design by Roméo Poirier & Tim Tetzner, 2022

Written and produced by Roméo Poirier
Design by Tim Tetzner
Mastering by Giuseppe Ielasi
Text (back cover) by Lamiral Poirier
Thanks to Jan Jelinek, Tim Tetzner, Anna De Smet, Lamiral Poirier, Sylviane Poirier, Octave Moritz, Will Boyd, Guy Tournay, Antoine Pasqualini, Fabien Leclerc, Rutger De Brabander, Frans Robert, Anna Wery, Vittorio Degli Innocenti, Lucas Kraft, Léna Burger, Christophe Le Poëc, Augustin Gigleux, Daphné Vagogne, Jonathan Soskin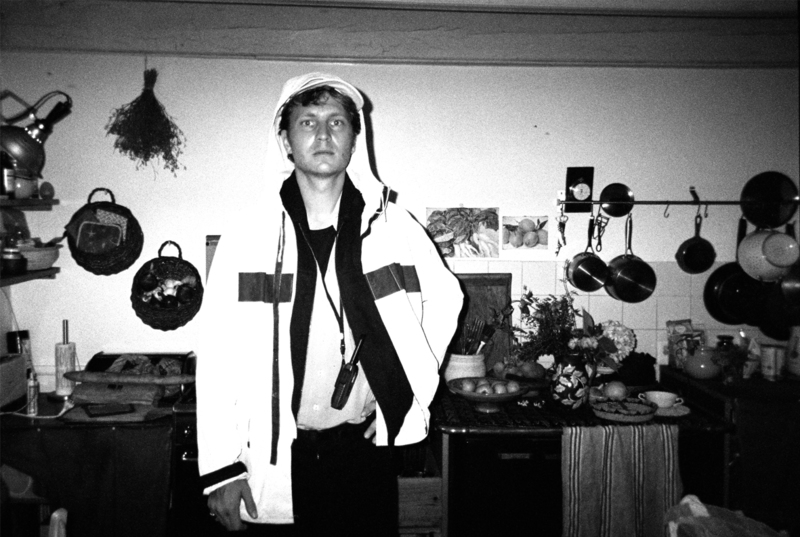 Rare shot of lifeguard Roméo Poirier, photo by Anna De Smet, 2022