ASUNA & Jan Jelinek:
Signals Bulletin
Tracklist:

A1. Relief, pt.1
A2. Pulsating Primary Structure
B1. Fountain
B2. How a spiral works
B3. Blinking of countless lines
ASUNA & Jan Jelinek:
Signals Bulletin
Faitiche is delighted to announce the release of a new collaboration between the Japanese sound artist ASUNA and Jan Jelinek: the album Signals Bulletin brings together joint improvisations and compositions made over a period of three years in Berlin, Kyoto and Kanazawa. ASUNA's meandering organ drones merge with Jelinek's pulsating synthesizer and field recording loops to create dense superclusters that span broad harmonic arcs.

"Watching the Japanese sound artist ASUNA playing the organ, some people might be surprised. ASUNA is no virtuoso flying over the keyboard in a rage. Instead, with the calm gestures of an office worker, he cuts strips of adhesive tape to the correct length before sticking them onto the keys of his instrument. In this way, large clusters of keys are held down, creating a dense and sustained range of frequencies, while the sound artist continually prepares further sets of keys or removes tape again. I have rarely seen a more convincing performance concept, with such a power to fascinate.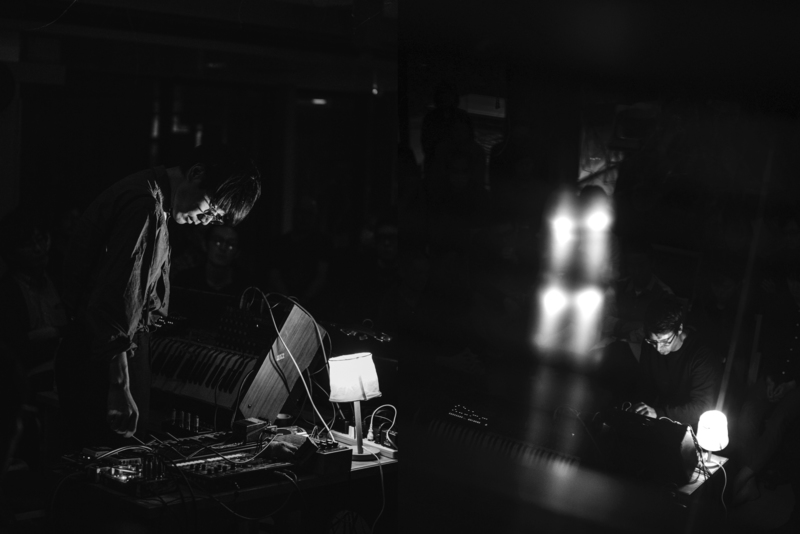 ASUNA & Jan Jelinek live, Tokyo 2017, photo by Takehito Goto

I first met ASUNA when we both gave a concert at the 21st Century Museum of Contemporary Art in Kanazawa, his home city. He performed the organ drones as described above and I immediately knew I wanted to collaborate with him. Six years and five meetings later, we completed Signals Bulletin. The album includes both joint improvisations and compositions, recorded in Berlin, Kanazawa and Kyoto.
Whether using prepared organ, Casio keyboards or mechanical plastic toys, ASUNA creates rich textures of sound that barely change over long stretches of time. It is a music without breaks. For a while, I was unsure how my loops made using modular synthesizers and live sampling fitted here – until I realized the role I had to take in this duet: I would provide the rhythmically pulsating foundation over which his dense continuums could unfold.

The result is harmonically drifting superclusters that put us into a meditation-like state. It can perhaps be compared to Automatic Writing – a mode of creative expression floating somewhere between concentration and distraction. Both the structure of our pieces and our approach to our instruments allow a similar "absence": we let the machines play and repeat themselves – while we, in a mild form of trance, adopt the role of observers, intervening only occasionally.

It is no coincidence that ASUNA owns a collection of Doodle Art – drawings jotted down during conversations or while talking on the phone. It is said that works made like this point to the unconscious and reveal pet motifs – because a doodler always inadvertently returns to his or her favourite themes. The artwork for Signals Bulletin features pictures from the collection, in this case sheets of paper from the pads provided in stationery shops to test out pens. The special quality of such doodles is that the jumble of drawings is the work of a collective whose individual members do not know each other. Layer by layer is added, by someone different each time – until it becomes a dense cluster of lines and symbols ... "

Jan Jelinek, Berlin 2018

Written and produced by ASUNA & Jan Jelinek - Kyoto, Berlin & Kanazawa 2014-2017. Mastering by Rashad Becker, graphic design by Tim Tetzner, supported by a grant from Goethe Institut Villa Kamogawa. Many thanks to M. Wernhard.