25.01.2022
Surveillance - in three episodes
German SWR2 premiers a new radio work by Jan Jelinek: Überwachung - in drei Episoden (Surveillance - in three episodes). Premiere: February, 12th 2022. Afterwards as free stream & donwload for 18 months available here.

On Überwachung - in drei Episoden: Each of the piece's three episodes presents a historical system of surveillance or early-warning. What they all have in common is their link to their immediate surroundings, either being shaped by the architecture in which they are installed or having influenced the design of an architecture optimized for their functioning. Though no longer operational, they are all publically accessible, acoustically activated by visitors: groups of tourists pushing their way through narrow passageways, playfully triggering warning signals; schoolchildren whistling and clapping as they guide each other through cavernous spaces. By installing microphones to record these places, the radio play not only performs the role of a sound cartographer, but also that of a sociological observer: we hear the specific quality of these places, but also the reactions of those who visit them.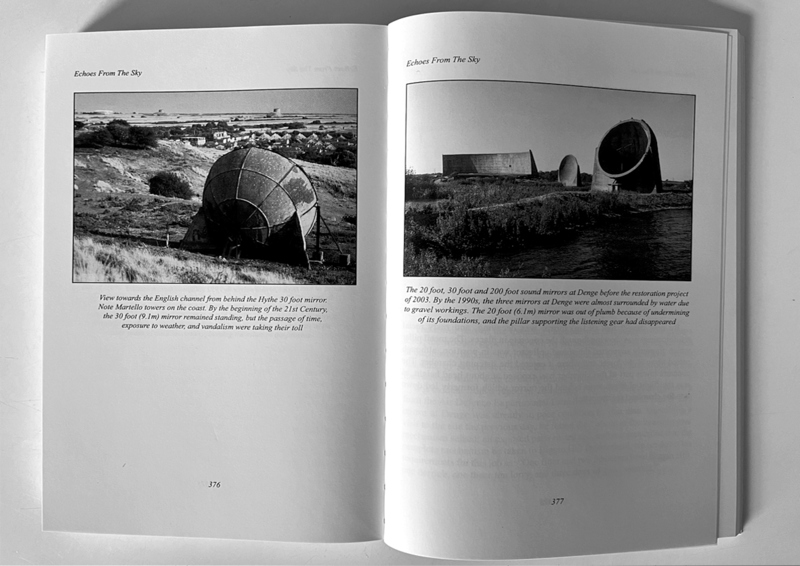 Richard N. Scarth: Echoes from the Sky, 2017
1. Episode: Orecchio di Dionisio
This limestone cave in the Sicilian town of Syracuse has exceptional acoustics: a person standing at the cave entrance can hear every word whispered deep down inside it. According to the painter Michelangelo da Caravaggio, the tyrant Dionysius I imprisoned his political prisoners in the cave, exploiting its acoustics to spy on them.

2. Episode: Uguisubari
Uguisubari are sound-making floorboards in Japanese temple and castle complexes. In the Edo period, the "nightingale floor" (literal translation of uguisubari) was a popular acoustic warning system: when someone stepped onto the boards, nails would rub against metal clamps beneath the floor, creating a tell-tale squeaky sound that resembled the chirping of the Japanese nightingale.
3. Episode: Sound Mirrors
Sound mirrors are an early form of parabolic microphone, built on the south coast of England in the 1920s. These Brutalist-looking concrete structures are shaped like parabolic mirrors, measuring up 70 metres across. They were used for the acoustic detection of airships and planes. Unable to record in England due to the COVID19 lockdown, the author used sounds from YouTube films in which visitors explore the sound mirrors and/or document them using drones.

4. Supplement to Uguisubari
Jan Jelinek: Überwachung - in drei Episoden (excerpt of Episode II), 2022